Department of Economic Information Science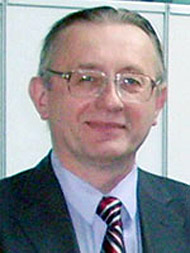 Chair of the Department:
Prof. Boris A. Zhelezko
The Chair of the Department is PhD, Prof. Boris A. Zhelezko.
The department was established in 2000 to bring closer information technologies and economics. The faculty comprises 6 PhDs and 5 assistant lecturers. The department's scientific and methodological potential is aimed at improving efficiency of management at enterprises through information technologies.
The department maintains contacts with different institutions of higher education both in the country and abroad. The department of Economic Information Science implements agreements on academic cooperation with the department of Information management and electronic commerce (IMiEK) and the Department of Designing economic information systems (PEIS) at the Moscow state university of economics, statistics and informatics (MESI); with the Department of Intellectual information technologies of the Belarusian state university of informatics and Radio electronics; with the EPAM System Company, etc.
The department faculty deliver lectures and provide practical courses both in three general disciplines of economic informatization at the schools of management, marketing and the high school of management and business, and special disciplines.
In 2001, the department initiated training students in a new major, Economic information Science within the specialty Economics and management at Enterprise.
In 2005, the department was the first in the Republic of Belarus to introduce a new specialty - Economic information Science with granting the qualification of economic information scientist.
Directions of theoretical and practical activities and business offers:
Analysis of problem studies and substantiation of management decisions
Automation of economic and management processes, Web-design
Estimation of information technologies efficiency and software quality control
Analysis of financial state of economic entities and crisis diagnostics based on up-to-date information technologies
Reengineering of business processes
Economic objects ratings
Multilevel expertise of business plans in investment projects
Systems of decision-making support
The department provides training of master and doctoral students in specialty 08.00.13, Mathematical and instrumental methods in economics.
The department of Economic Information Science is constantly striving towards implementing new efficient solutions and methods in different fields, practical use of permanently updating achievements in information technologies.
Our Address: room 404/4, 26 Partizansky av.,
Minsk, 220672, Republic of Belarus
Telephone number/fax:
+375 17 209-88-45 – chair of the department.

E-mail:kitu@bseu.by