The Department of Taxes and Taxation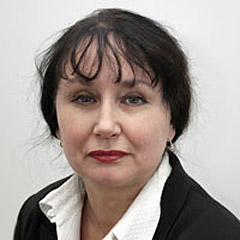 Dean:
FIO
grade,
degree
The Chair of the Department is Dr. hab., Prof. Yelena F. Kireyeva.
The Department of Taxes and Taxation was established in 2001 on the basis of the Department of Finance founded, in its turn, in 1965.
It is a graduating department for specialty Finance and Crediting (specialization Taxes and Taxation).
The department faculty comprises 21 members including 3 professors, 9 Associate Professors and 9 assistant lecturers (as in academic year 2004/2005).
The department trains 7 doctoral students and academic degree seekers.
The research fields of the department's professors and faculty are:
| | |
| --- | --- |
| Name | Research field |
| Y. Kireyeva | Taxation and taxes in the context of economic integration. |
| V. Khankevich | Financial control and auditing, taxation. |
| V. Vukolova | Enterprises finance organization – enterprise taxation, financial management. |
| T. Verezubova | Insurance, taxation. Financial state of insurance companies. |
| T. Maximenko | Investment activity. Financial markets. Financial management. Corporate management. |
| S. Zubareva | Taxation and tax management. |
| G. Korzhenevskaya | Insurance. Financial management in insurance. |
| V. Marochkina | Enterprise finance. Financial management. |
| A. Shashkovski | Industrial enterprises finance. Profit allocation and disposition. Organization of operating assets of economic institutions. |
In their scholarly and research work the department faculty aim at training future scientists, doctors and candidates of sciences as well as writing and publishing up-to-date manuals and study guides.
At present, the department faculty provide classes and lectures for full- and part-time students at all schools (except the School of Finance and Banking) in the following disciplines:
State Finance;
Taxation;
Taxes and Taxation;
Firm Tax Policy;
Taxation and Enterprise Tax Policy;
Insurance Basics;
Insurance;
Insurance Sector;
Insurance in Foreign Economic Activity;
Finance;
Financial Management;
Agricultural Enterprises Finance;
Financial Systems;
Enterprise Finance;
Finance and Financial Market.
The department has been maintaining active contacts with many economic ministries, agencies, enterprises, educational establishments and research organizations of Belarus , the CIS and far abroad countries for many years. They cooperate with the Ministry of Finance of the Republic of Belarus, Belgosstrah, Ministry of Taxation of the Republic of Belarus, Belarusian Insurance Union, Russian Financial Academy and Ukrainian State Taxation Academy. The school's students have an opportunity to attend classes in their major disciplines delivered at BSEU by professors from educational establishments of Europe, the USA and Asia as well as to get education (alongside with studies at BSEU) abroad in the framework of students' exchange programs.
International Cooperation
The department faculty members annually take part in international scientific and practical conferences, symposia, congresses in the CIS and far abroad countries. They also publish their scientific articles, reports and theses in journals of foreign universities and other scientific centres.
Within scientific cooperation scientific articles, reports and theses of the leading department's scholars are published in Belarusian journals.
In pursuance of the Agreement between the School of Finance and Banking and the Ministry of Taxation of the Republic of Belarus the top officers of the latter take part in the work of the State Examination Board and deliver lectures.
The department maintains active contacts with higher educational establishments in the Russian Federation and Ukraine.
| | |
| --- | --- |
| | Address: 26 Partizanski prosp., Bldg 1, room 1102 |
| | Tel. : 209-78-39 – Y. Kireyeva, the Chair |
| | E-mail: kireeva_e@bseu.by |