THE SCHOOL OF INTERNATIONAL ECONOMIC RELATIONS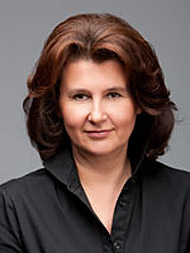 Dean:
Alla A. Pranevich
Ph.D. (Economics),
Professor
The Dean of the School is Professor,Ph.D. (Economics), associate professor Shutilin Vjacheslav Jur'evich.
School of International Economic Relations (SIER) is one of the most prestigious schools of the University. It trains economists-managers in the following majors: World Economics (specializations: Management of Foreign Economic Activities and International Investments), Business Administration, Economic Theory (specialization: Economic Policy) and Economics.
Established in 1992, the School enjoys the best experience in training specialists in world economics and international economic relations in the republic. It trains over 1300 full-time and part-time students who are to comply with strict requirements in their professional field, computers and foreign languages.
The School's graduates (about 200 specialists per year) acquire profound knowledge in micro- and macroeconomic analysis, international management and marketing; they are able to identify the patterns of the world market's infrastructure development and their functioning. In addition, future economists majoring in international economic relations study accounting, payment transactions and insurance in foreign economic activities, small business performance, and information technologies.
Much attention is paid to languages: students majoring in World Economics and Business Administration master at least two foreign languages; students majoring in Economics and Economic Theory are provided with profound training in one foreign language. To facilitate mastering foreign languages, highly qualified teachers give classes in language laboratories with video equipment and satellite television.
Graduates majoring in Management of Foreign Economic Activities acquire special knowledge of the development mechanism of the world economics and foreign economic activities in the Republic of Belarus. As specialists in the field, they implement foreign economic relations in ministries, departments, public enterprises and banks. They work at exporting and marketing departments of numerous firms, in Belarusian diplomatic missions abroad, in forex and finance departments of the major banks, at joint ventures, in representative offices of foreign firms and international organizations.
Future specialists in International Investments are trained to be capable of grounding the investment decisions in compliance with international standards, performing the investment business planning and financial analysis, finding foreign investors and evaluating investment projects efficiency for foreign financing against state guarantees, defining prospects in developing foreign contacts, national investment infrastructure and stock market, participating in the activities of organizations, which coordinate world investment processes, promoting favorable investment climate and maintaining investment security. These majors can work for public administration at the regional and local level, in banks, financial companies, ministries and government agencies, economic departments of enterprises and organizations engaged in investment.
Future specialists in Business Administration are trained for managing and organizational work at enterprises and organizations operating on both national and international markets. Students study various aspects of national and international economies, master the technique of business administration. The graduates majoring in Business Administration are a professional prepared for working for public enterprises, private firms and joint ventures, government bodies of regional and local administration.
Within the framework of the specialty Economic Theory students majoring in Economic Policy study economic theory and various aspects of economic relations, master modern methods and tools of economic policies, theory and methodology of lecturing on economic subjects. Graduates are granted the qualification of an economist and lecturer on economic disciplines. The professional sphere of these graduates is working in various ministries and government agencies, public agencies of regional and local administration, enterprises, scientific and research centres, secondary, specialized secondary and higher educational institutions.
Graduates majoring in Economics are competent in economic analysis, economic projecting, managing organization, scientific research. They acquire a unique qualification of an economic analyst. The distinctive feature of this specialty is a combination of profound knowledge of economic theory, mathematical economics and languages. Students acquire fundamental training in modern economic theory; they study a wide range of mathematical disciplines indispensable for every modern economist, modern technologies of information processing, statistics, econometrics and mathematical economics. The high level of fundamental training is combined with good knowledge of applied subjects: taxation, investment analysis and business planning, risk management and insurance, banking, equity markets, etc. Specialists with the qualification Economic Analyst are in demand at state administration bodies, various organizations, including consulting firms, foreign enterprises and joint ventures, analytical departments in banks, insurance companies, and research centers.
The knowledge acquired allows graduates of the School to exercise their professional activities in the fields like management, recording and monitoring, entrepreneurship, finance, consulting, interpreting, scientific research, analytics, economic design and teaching.
The School employs experienced professors, associate professors and holders of the master's degree who studied in the leading educational institutions of the CIS and research centres of Great Britain, Germany, the USA, Austria, France, and Italy.
Foreign professors and practicing experts are invited to deliver lectures on various economic issues in foreign languages. The Ministry of Foreign Affairs of the Republic of Belarus, leading commercial banks, public and private enterprises interested in the development of foreign economic relations render their active assistance in the training process. The School organizes regular meetings between students, professors and leading diplomats from various embassies, as well as representatives of international financial institutions.
The School's performance in 2009/2010 resulted in its recognition as the top School of the university. Student self-government bodies, such as The Student Council, Belarusian Republican Youth Union (BRSM) Committee and The Student Trade Union perform actively at The School. They have initiated a range of innovative projects.
Since 2011 the School has launched an action-oriented Master's degree programme in International Economy and Trade Policy in English.
Many of our students have been able to study or continue their studies in the USA, Germany, France, Austria, Ireland, Australia, Spain, Sweden, Canada, Italy, Poland, and China. The high level of language training at the School results in numerous victories of our students at national contests. A lot of students are awarded grants and internships abroad.
Due to their high qualification and training level, SIER graduates are always in demand on the labour market.