The Department of Economics and Management at the HSMB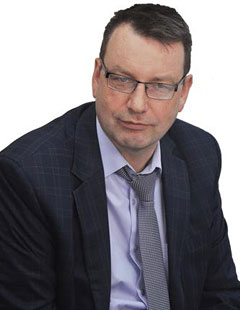 Dean:
prof. Alexei A. Bykov
The Chair of the department is Dr. hab., a ssociate prof. Alexei A. Bykov whose scientific and pedagogical record is over 13 years. He is the author of more than 50 scientific papers, including 1 monograph, 7 academic and methodological papers (as a co-author or editor).
The department was set up in September 1998 to unite the efforts of the leading scholars in this field aimed at training students in their second higher education with majors in economics and management of enterprise and world economics.
Currently the department's faculty comprises more than 15 professors, Dr. hab. in economics, 30 experienced associate professors and 10 assistant lecturers. Scientific and methodological potential of the department aims to develop new educational technologies, state-of-art textbooks and workbooks, and train scientific and pedagogical staff. Academic curricula and syllabi have constantly been improved with the focus on introducing innovative issues in the academic process.
Specialist training for obtaining a second higher education has been conducted with specialization in:
economics and management of enterprise;
world economics (with major in management of foreign activities)
Along the main given courses:
economic theory (micro- and macroeconomics);
management;
economics of enterprise;
economic modeling, methods and models
world economics;
investment planning;
economics of small businesses and joint enterprises, etc.
Textbooks and workbooks have been prepared and published by the BSEU scientists. The libraries are filled with academic literature by foreign authors. The department gets current scientific information from economic journals: Economic Issues, Russian Economic Journal, ECO, The World Economy and International Economic Relations and others.
Post-graduate students have courses in these majors: 08.00.01 – e conomic theory; 08.00.05 – e conomics and management of national economy. To discuss theses and scientific papers creative environment has been created. There goes a discussion in the " Herald of the Belarus State Economic University" Journal on economics and management issues (articles by professor I. Novikova, N. Belyatski, E. Velesko), on issues bound with economics of enterprise, small and joint venture businesses.
Training for Master's students contains the following specializations: economics and management of enterprise, world economics.
The department maintains links with foreign universities and institutes: the Higher School of Economics in Belostock; within the framework of the project to train Master's students in the TACIS program the department cooperates with universities in Italy and Spain. The department teachers partake in international conferences extending contacts with foreign institutes of higher learning. Scientific research and training of scholars is conducted jointly with the Institute of Economics of the Belarusian National Academy of Science. Academic curricula, syllabi, topics for term papers and graduate theses are approved by the Ministry of Economy and the Ministry for Foreign Affairs of the Republic of Belarus.
The main directions of scientific research of the department:
economic theory issues;
contemporary features of management;
economics of enterprises: innovations, restructuring and reforms in the transitive period;
efficiency of foreign economic activities.