The Department of National economics and state administration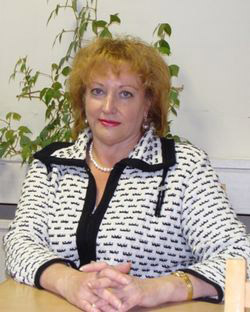 Chair of the Department:
Dr. hab. Helena B. Dorina
The Chair of the Department is Dr. hab. Helena B. Dorina.
The Department of National economics and state administration was established in 1994 by merging two departments: Department of National Economy Planning (opened in 1964) and Department of Productive Forces Allocation (initially Department of Economic Geography, opened in 1953).
It is a graduating department for specialty 1-26 01 01, "State Administration".
Students' active participation in the scholarly research results in the high level of professional training for manager economists majoring in State Administration. Many students are engaged in scholarly research guided by the department faculty and present their works at national and international contests of students' research papers. There are a number of laureates or winners in various nominations among them, including the special Scholarship of the President and Government of the Republic of Belarus.
The Department faculty comprises 29 members (17 full-time and 12 part-time), including 8 Drs. hab., 12 PhDs, 6 professors and 11 associate professors.
The department faculty deliver lectures at 8 University Schools (for both full-time and correspondence courses) in the following disciplines:
Introduction into Specialty;
State Regulation of Economics;
Urban and Area Planning;
Foreign Experience of Municipal Administration;
Macroeconomic Planning;
Methods of Regional Research;
Organization of State Management;
Production Cost Prognostics and Calculation;
Prognostics and Planning in Economics;
Socio-economic Development of Urban Territories;
Regional Policy;
Regional Administration;
Privatization Theory and Practice;
State Property Management;
Human Resources Management in Public Institutions;
Project Management;
Regional Economics;
Economics of Social and Cultural Sphere.
The department's main directions of scholarly research:
State Regulation in Economics
Regional und Urban Economics
Regional Administration and Regional Economic Policy
Local Administration and Self-government
Institutional Economy
Economic Prognostics and Planning
Regional Labor Markets
The main teaching publications authored by the department's faculty:

The Department maintains fruitful educational and scholarly contacts with a number of related departments both in other national and foreign universities, research centers and institutions (in Great Britain, Germany, Lithuania, Poland, Russia, Ukraine, Sweden, Estonia, etc.).
Professors and associate professors of the Department have a long experience of scientific research and expert activities within the framework of international scientific research and educational projects under the auspices of numerous international organizations and programs (UNDP, Habitat, the World Bank, TACIS, INTAS, Campus Europae, SIDA, etc.).
In academic year 2007/2008 the Department provides training for 4 post-doctoral, 16 doctoral and 6 master program students.
Our Address: room 704/4, 26 Partizansky av., Minsk,
220672, Republic of Belarus
Telephone number/fax:
+375 17 209 88 46 Chair

E-mail: kru@bseu.by