THE LIBRARY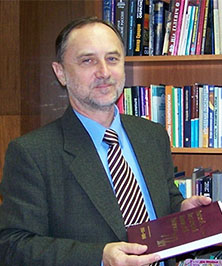 Director:
Sergei Shandora
Founded as part of the Institute of National Economy in 1933, its economy-centric library has significantly contributed to the leading position of the Belarus State Economic University (BSEU) in national economic education. Today it is one of the University's oldest structural divisions.
Sergei Shandora, the author of a wide range of publications on acute problems of library science and an active member of Belarusian Library Association, has headed the library since 1993.
Today, providing informational support to the University's educational and scientific divisions as well as contributing to the spiritual, moral and cultural development of students, the library is among the leaders in the unified scientific and educational environment of the University.
Over 20,000 readers - University's and outside students, teachers, employees, researchers, representatives of state authorities, specialists from various enterprises and organizations, enjoy the unique services of the library, which at present holds over 1.3 million books, monographs, textbooks, tutorials, references, theses and synopses, periodicals and other publications in paper and electronic versions. The library boasts 2000 visitors daily.
Since 1991 the library has been introducing new IT, which has ensured a new level of service efficiency by automating registration and processing of new entries, enabling generation of bibliographical database and providing the readers with e-catalogues.
Since 2002 the library has been using a new automated library information system "MARK-SQL". Launched in 2005, the library's multi-level web-site http://library.bseu.by/ provides on-line access to its catalogues, the list of new entries and free educational resources in the Internet. The library is also presented in social media such as Facebook, https://vk.com/club29838337, Twitter, https://ok.ru/group/54642626265096, YouTube.
The University's e-library with local access only was launched in 2000. Since December 2013 it is based on DSpace platform, free software providing permanent access to digital resources http://edoc.bseu.by:8080/ . Electronic library contains conference and seminar materials, articles from periodicals, patents, syllabuses, training packages, electronic versions of paper documents. University's own training packages ("electronic methodological training complexes") make up a major part of the electronic library, which together with the faculty is perfecting the educational process by establishing and extending the discipline focused stock of comprehensive educational materials http://edoc.bseu.by/.
For a considerable period the library has been cooperating with Belarusian and foreign counterparts and other informational organizations as well as participating in MARS, international corporate project on coordinating bibliographical activities. The library is coordinating BelAR, the project on analytical cataloguing for the system of national higher educational institutions' libraries. Since 2010 the University's library has been linked to the Virtual Reading Room of the National Library. Now the readers enjoy access to the full text databases: Grebennikon, eLIBRARY.ru, EAST VIEW, EBSCO, SCOPUS, "Standard", legal databases "Etalon", "Business-Info", "Consultant-Plus", Normativka.by. They can also test various databases provided to the university by the commercial organizations.
Staff's qualification has always been in the focus of attention. The library has initiated the refresher courses in the Institute for Qualification Upgrade and Retraining of Personnel for its own and visiting librarians.
LIBRARY DEPARTMENTS:
Service departments:
Scientific and foreign literature reading room, the first open access reading room among the university libraries, provides comprehensive information services to researchers, faculty, post- and undergraduates as well as other categories of readers. It offers scientific publications on economics of the previous 5 years and literature in foreign languages: original foreign publications, educational literature, periodicals, reference editions, audiovisual materials.
Central reading room offers latest reference and encyclopedic editions, scientific publications and teaching kits. The visitors have access to the collection of literature on economics, sociology, political science, history, philosophy, pedagogy, culture and other humanities. Wi-Fi and modern computers are available.
Periodicals' reading room is forming its collection according to the University's specialization. With annual subscription of about 250 magazines and newspapers it offers periodicals on all aspects of economics, social, political and other humanitarian sciences. The readers have access to its database, Internet and e-library.
Educational literature service supports training process and provides library's assistance to students and faculty. Educational literature is distributed automatically on a semester or annual basis according to the curricula.
Scientific literature service provides informational support for the scientific activities of researchers, faculty and students. Readers can receive scientific literature on the subscription and independently choose publications on economics using the system of open access. Faculty, researchers, post- and undergraduates can use the collection of dissertations, authors' abstracts, publications by the University's staff as well as the collection of rare and valuable publications.
Fiction literature service offers fiction, classic and modern literature, literature on history, psychology, house-holding, food, sport, medicine. Art literature is of special value. It includes manuals on the greatest artists and the world's largest museums. The advantage of the service is its open access system.
Information and Bibliographic Department provides informational services to the faculty and students; provides bibliographic references to all categories of users; trains the readers to seek documents in the databases and catalogues, promotes informational resources, monitors publication activities of the University's staff, organizes and updates the library's Catalogue of Articles.
TECHNOLOGICAL DEPARTMENTS:
Electronic Informational Resources Department is forming its collection of electronic documents according to the University's specialization and readers' demand. E-library provides access to training packages, electronic versions of journals, conference materials and other educational publications. The department issues monthly electronic bulletin of new entries, interacts with the University's schools and departments on the formation of e-collection, provides methodological assistance in creating electronic teaching materials.
Collection Development Department acquires new publications, monitors the stock, subscribes to periodicals and full text databases, monitors the availability of literature, and replaces the lost items. 
Scientific Document Processing Department automatically processes incoming scientific and technical documents; creates and updates the main catalogues of the library; maintains library's Twitter account.
Computerization sector administers local and remote access to the library's informational resources, University's web site, accounts in social media VK, Facebook, OK; maintains hardware and automated library information system MARC-SQL; coordinates introduction of new IT.
LIBRARY' BRANCHES
School of Commerce and Tourists Industry Library renders services to the faculty and students of the respective school as well as attendees of "Consulttorgcenter"; acquires specialized literature on trade and tourism; issues monthly lists of new entries.
School of Law library renders library, bibliographic and informational services to the faculty, students and staff of the school of law. The collection of the library is focused on periodicals and literature on law. The readers have access to legal databases.
Services for readers:
Library services on ID subscriptions:
literature hand out for the reading rooms on individual subscription ID ;
acceptance of orders and hand out of literature for the reading rooms on inter-library subscription ID.
Bibliographic and informational service:
informing on the structure of library's collections: issuing the bulletin of new entries, arranging expos of new literature, theme-focused expos dedicated to scientific conferences, organizing complex events "Day of the Department" and "Day of Information";
providing the readers with reference-bibliographic instruments of the library to search documents;
providing access to e-resources – full-text, reference and bibliographic databases;
consulting on using catalogues, databases and e-library;
organizing training courses for all categories of readers on informational culture;
compiling the lists of training literature for the University's training and scientific activities;
issuing bibliographic references and fact sheets.
Other services:
- Classifying documents according to Universal Decimal Classification (UDC) or Library Bibliographic Classification (LBC) index – 0.55 BYN (Room  12, 10-00 - 12-00; 13-00 - 17-00);
- Borrowing book from Central Reading Room for night or weekend – 0.73 BYN (Room 5);
- Lost book replace – 1.40 BYN (Room 11, 10-00 - 12-00; 13-00 - 17-00);
- Library's excursions.
| | |
| --- | --- |
| Reading Rooms: | |
| Central                                    | 8.30 – 20.20 |
| Periodicals                               | 8.30 – 20.20 |
| Scientific and foreign literature  | 9.00 – 17.20 |
| Services: | |
| Training literature                     | 9.10 - 19.20 |
| Scientific literature                   | 9.10 - 19.20 |
| Fiction literature                      | 9.10 – 17.20 |
| Saturday                                 | 9.00 – 17.20 |
| Cleaning                                  | Day Month's Last Thursday |